2 Days Discover Vietnam Northwest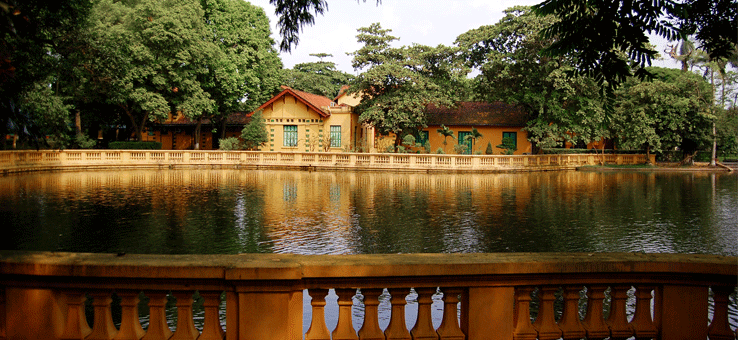 Map
Detail
Booking
Comment
Video

Day 1: Drive along reservoir, staying at authentic house on stilts (L/D)
Start in the morning from Hanoi, the Jeep will drive you to the west of Hanoi. Take National road No. 6 through Thanh Xuan District, Chuc Son before meet up Xuan Mai Town, from this point of the drive, you will start seeing rice fields with karsts mountains dotted along the road. Passing by a picturesque golf course built between mountains you will stop for refreshing at a
roadside café. Get back to your Jeep to conquer the Kem Slope, not too far after that, you will reach to Hoa
Binh City- the capital city of Hoa Binh Province which is well known for Hoa Binh Hydropower Plant. If take a careful look, you even could see a giant statue of Ho Chi Minh placed on the mountain. End of the city, you will conquer the second slope named Cun, it used to be the most
challenging slope in the past. Tan Phong is the next town you will pass by which is easily to be recognized with sugarcane and orange farms. From here, you begin to see some houses, villages of Muong Minority Group. Stop for taking photos and stretch your legs. Continue your drive until reach to the foot of The White Rock Slope, you will turn right to small road. It is a hidden road through villages. A bit bumpy for the first 30 minutes, which is perfectly
done by vehicle like Jeep, then wow, you get to Hoa Binh Reservoir. It seems like you see another Ha Long Bay on mountain. Stop for photos, enjoy fresh air and the grand view of the lake. Keep driving along the reservoir bank, you will get to a Muong's home. The host was a
former local authority officer; retired now but full of energy and warm hearted. His house is nice, isolated and located just by the reservoir, you can swim if the weather permits. Have lunch at his house and have chats with him over cups of tea. Enjoy your time until depart for Mai Chau. Continue a short drive on the bank until you meet up the main road again. About
30 minutes later, you will arrive in Mai Chau Town. Check in your homestay in Poom Coong Village - a nice village located in Mai Chau Valley. Walk around the village by yourself or just
free at leisure.
In the evening, dinner will be served with local dishes.
Note: As traditional custom of Thai People, the host will come to you with cup of rice wine which you can never say no. The local people drink for health, luck, happiness and friendship so even if you are not alcoholic, just hold the cup and say 1 2 3 Dzoooo……. loudly.
Overnight at homestay.
Blanket, pillow and mattress are provided but can bring your own sleeping bag for your own comfort. The homestay has hot shower and standard toilet for guests.
Day 2: Morning walk, taste cultural lunch at Muong Culture Space (B/L)
Waken up by natural alarm- roosters. Have cup of tea or coffee, sit back and watch the villagers beginning a new day. Some take their kids to school, some go to the farm. Everybody has works to do. Enjoy the breakfast and then start a morning walk around the villages to learn more about rural life, take more photos of this peaceful area and friendly people.
Back to homestay, pack your stuffs, farewell to the host and set off for Hanoi. Just few kilometers from Mai Chau, you will conquer the slope of the day: The White Rock, it is long and the most challenging of the trip. You will have first stop with the view of Mai Chau Town and
the second stop with village view.
Drive downhill and on the way, you stop at private Muong Culture Space Museum, the owner is an artist who is crazy lover of the Muong culture. He has collected thousand objects of the Muong culture to display in this museum (Muong is largest ethnic population in Hoa Binh Province, one of the largest minority groups in Vietnam with population of 1.3 millions). You will walk around this museum, from the objects, photos, model houses you could understand more about this minority group. Lunch with authentic foods of the Muong as banana root soup, papaya flower, pork wrapped by pomelo leaf at the biggest house of the museum which is original house of a former Muong's mandarin. Inside the house, a set of Gongs and a collection of authentic hunting guns are displayed.
Unwind yourself a bit after the meal and then drive back to Hanoi. Trip ends at your hotel.
Package Include
Jeep with driver (one Jeep can carry 2 adults plus guide, or 2 adults and 1 child plus guide)

English speaking local guide

Meals as indicated in program (local foods, B: breakfast, L: lunch, D: dinner)
1 night homestay

02 bottles of water per person per day

Entrance fees and rowing boat trip
Package Exclude
Meals not listed in the itinerary
Drinks, other than water on activity days
Personal expenses (laundry, telephone, drinks, tips, etc)
Child Policy
Child under 12 years old sharing with 01 adult: 90% of adult fare
Child under 12 years old sharing with 02 adults with extra bed: 75% of adult fare
Child under 12 years old sharing with 02 adults without extra bed: 50% of adult fare
Child under 02 years old sharing with 02 adults without bed: FOC
Remark
Prices quoted in USD and subject to change without prior notice.
Please be informed that the quotation does not imply or constitute availability.
In case if the hotel listed is unavailable, other similar class hotel shall be provided.
Compulsory Gala Dinner will be applied during Christmas Eve and New Year Eve.
Cancellation Policy
All cancellation must be made in writing
Any cancellation at 30 Days prior to arrival date: No charge
Any cancellation between 29Days – 15 Days prior to arrival date: 50% of tour fare charge
Any cancellation between 14Days – 3 Days prior to arrival date: 75% of tour fare charge
Any cancellation less than 3 Days : 100% of tour fare charge
Arrival Visa Application Requirement
Prices quoted in USD and subject to change without prior notice.
A completed visa application form
A Passport with at least 6 months validity
One recent photograph (4x6 cm)
Tourist Visa fee (US$30)
Important: In order to be admitted into the country, tourists may need to demonstrate that they have sufficient funds for their stay and a return ticket.